On January 1st, 1997, Hunan TV Station formally commenced transmitting its program via Asian SatelliteNo.2, and has been known as "Hunan Satellite TV Station" (HNSTV) since then. Its Internet domainname is www.hunantv.com. Ever since HNSTV started to broadcast, it has developed a series of name brandprograms, among which the most famous includes Joyful Base Camp, Rose Engagement, Evening News, NewYouth, Music forever, Today Talk and etc. These programs have produced extensive influence nationwide, andhave helped make the TV Station a most powerful media force and trademark in China. Its receivers adoreHNSTV as "happy whirlwind ","rose perfume", and it becomes so prevailing all over the country that it evenarouses academic interests in the so-called " Hunan television phenomenon ".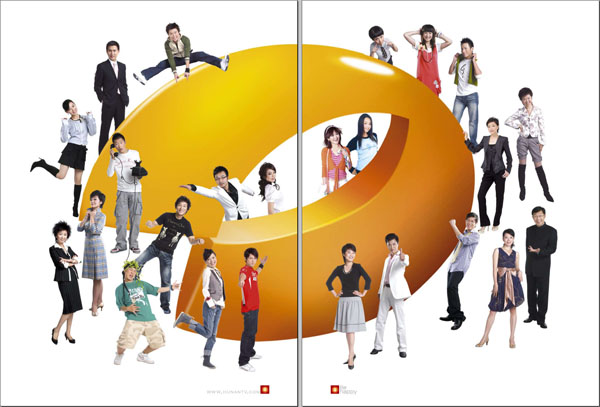 On October 28th, 2001, HNSTV moved to its current site, the Golden Eagle Complex in Golden EagleCultural Center, Changsha. Digitalization followed with the move. Today HNSTV has realized digital andnetwork programming and broadcasting twenty-four hours a day, seven days a week. It is believed that both thehardware and the software HNSTV utilizes in programming and broadcasting have reached international firstclass level.

In 2003, the HNSTV decided to renovate and position itself more clearly as an entertainment-andinformation-oriented customized complex channel. It pursues to build up an image of "Youth, Beauty, Fashion"and to offer the audience "care happiness, and wonderfulness". In 2004, achieving 'nationwide coverage,national influence and national market' and fostering 'the most vigorous Chinese entertainment televisiontrademark' became the new goal of HNSTV.

At present, HNSTV is covering all over the country and keeping on the top priority,which compared otherprovincial TV channels. The effect covering rate over 60% at end of 2006, the number of audience alreadyreached 7.6 billions at the same time it also covering the area of Japan and Australia. Further more it is a firstChinese provincial TV Cannel entered American main stream of TV.

From 2003, Hunan Satellite TV Station has commenced operations and went into a golden period. Thecreated income over RMB 10 billions by advertisement and stable stated on the top among provincial TVChannels, on the third in China besides, just behind CCTV-1 and CCTV-5. Meanwhile, the entertainmentprogramme of Super Girls had an income over RMB 3 billions in 2006, it established a historical record fora single TV programme in the country. In addition, the Gold Hawk TV series Program has created incomeover RMB 3 billon in 2006 and became the highest value and most successful TV series Program in China.In addition, it continuously stated on the top among all the Provincial TV Channels in previous five years andtwice awarded as " a highest- valued invest Media" in successions and consecutively voted as " top 500 ChinaBrand". With the appearing on authoritative research by CCTV:The comprehensive compatible abilities ofHunan Satellite TV Station on the forth in china; Mr. Han Wang, Jiong He and Xiang Li were among the top tenqualified for the best TV programme host;The words of "Hunan Satellite TV Station", "Super Girls", "Super Boys"has uninterrupted stated the top seat for the entertainment part of Chinese website search and Media report.

On all accounts Hunan Satellite TV Station has became a powerful Media and had an extensive influencewherever the home or broad throughout ten years' development.